A free mobile phone application, that was released a couple years ago, is gaining popularity.  It's called Poynt and it's available on the top 3 smart phones; iPhone, Blackberry, and Android.   It's a mobile search tool to search in your local surroundings. Poynt does a good job of helping the mobile person find Businesses, Movies, Events, People, Restaurants, Gas prices, and weather.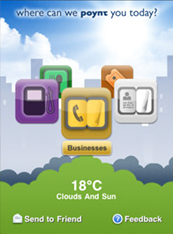 For Businesses, Poynt helps you:
Search to find the closest services you need
Call the business without exiting the Poynt application
View the Business' website
Save the listing info in your address book
E-mail or Tweet the listing info to a friend
Map your route there, from your current location
Maybe you don't have a Smart Phone or you aren't a "mobile" application user.  That's OK.  But your Customers are.  So it's important that you and your Business information is accessible by Poynt.  The best way to do that is to make sure you and your Business is listed in SuperPages.com and CitySearch.com.
To get more info on Poynt, go to http://Poynt.com.